On Friday, April 28, 2023, Innovo Detox held a celebratory networking event at our detox facility location in Abbottstown, Pennsylvania to honor three years of operations. Innovo Detox first opened our doors to accept patients on Monday, March 16, 2020. Waiting till the weather in the Mid-Atlantic area got a little warmer, April 28th saw friends, professional colleagues, and members of the local community come out to help us celebrate the last three years.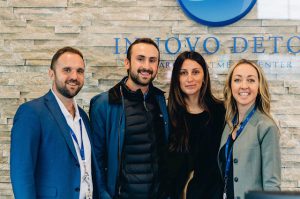 We are grateful for those that braved the rainy conditions to come out and help us celebrate. Over the last three years, the team at Innovo Detox has treated over 1700 patients, delivering lifesaving and life-enriching care for those suffering from addiction and co-occurring mental health disorders. During that time, Innovo Detox has also supported thousands more families, friends, employers, and loved ones get the help and support they need as their loved one began a journey of detox, treatment, and recovery.
On Friday, April 28th under cloudy, rainy skies, a tent was erected to shield attendees as they heard a message of hope and perseverance. Food trucks parked in the Innovo Detox facility parking lot for those in attendance to enjoy coffee and creative waffles, both sweet and savory. The day began at 11:00am, with fun, fellowship, networking, and delicious culinary options. About midway through the day, as professionals in the behavioral healthcare, addiction treatment, and mental health space, friends, Innovo Detox staff, and members of the local Pennsylvania community came together to celebrate the last three years of operations, the short program began.
Neighboring church Harvest Chapel PA offered a blessing on our facility, courtesy of Youth & Community Life Pastor Tyler Wagner. Abbottstown, Pennsylvania Mayor Daniel W. Watkins spoke a bit about the positive impact Innovo Detox has made in the local community, both in terms of job creation and in helping local citizens address and overcome addiction. Brittany Shutz, Executive Director of the York Opioid Collaborative, spoke about the impact that addiction and drugs have had on the local community, including the impacted numbers of opioid overdoses and the rising trend of synthetic opioids like fentanyl, as well as the great need for quality treatment and recovery resources that places like Innovo Detox offer to local individuals and families. Finally, Innovo Detox Executive Director Molly Ashcroft, CADC, spoke the those in attendance about the journey of Innovo Detox over our first three years, including the difficulties of opening right as the COVID-19 pandemic shut down Pennsylvania and the rest of the world, the program enhancements that have occurred since we opened, our mission, clinical philosophy, and the incredible impact that Innovo Detox and our staff has had on the lives of patients and families that we have touched over these last three years.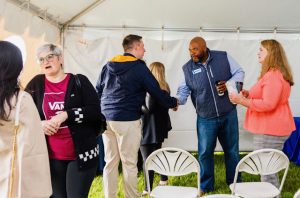 Typically, a three-year anniversary is not necessarily a cause for celebration. Often, organizations will celebrate a grand opening, and then perhaps larger milestones such as a 5-year, 10-year, or 25-year anniversary. However, opening as Innovo Detox did, literally days after nationwide and worldwide shutdown orders due to COVID-19, the fear and uncertainly of the pandemic for the first year or two, the ongoing challenges due to staffing, and the increasing need for high quality addiction treatment services during a time when the substance use and mental health of Americans are continuing to be at greater and greater risk, we felt a celebration was called for and warranted.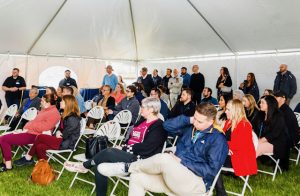 We are eternally grateful for the people, organizations, and institutions that supported us when we opened, and that have continued to support us over these first three years. Addiction is a complex issue, and it takes a village to help someone recover. It takes the individual, their family, their support system and recovery network, and a group of dedicated healthcare providers offering high quality, comprehensive care. It takes a village, and we are grateful to be part of an amazing village of caring professionals and for our tribe of supporters. We are grateful for that village, for the opportunity to play a small role in the addiction treatment and recovery journey of the patients and families we serve, and for the patients who begin that journey with us, but also continue to walk that journey once they leave the care and comfort of our facility. We are grateful to help patients recover and watch them go on to live lives filled with passion, purpose, fun, hope, and resiliency. We are grateful for these last three years and looking forward to many more to come.
If you or someone you know needs help with addiction or co-occurring disorders, please give us a call. Innovo Detox offers the latest in evidence-based medical, psychiatric, and clinical care for those in need of detox and medical stabilization in Pennsylvania and the surrounding Mid-Atlantic area. If we aren't the best fit for you or a loved one, we will take the necessary time to work with you to find a detox, rehab, treatment center or provider that better fits your needs. Please give us a call at (717) 619-3260 or email our team at [email protected]. For more information on our company or services, please visit our website at www.innovodetox.com.