Jersey City, NJ is a vibrant and diverse urban center located on the western bank of the Hudson River. This major metropolitan hub offers much more than stunning views of the Manhattan skyline. Jersey City is a city filled with culture, the arts, and a warm community that welcomes a multicultural population.
If you're visiting the area, don't miss any of Jersey City's amazing attractions. The iconic Liberty State Park is a must-see. You can enjoy picnics and breathtaking views of the Statue of Liberty before heading over to the eclectic Powerhouse Arts District, home to art galleries, studios, and cultural events. Take a stroll along the waterfront and savor delectable cuisines at Jersey City's numerous local restaurants. The trendy and bustling Grove Street area offers a vibrant nightlife scene with live music, bars, and entertainment.
Amidst the bustling city life, there exists a reality that some individuals battle with substance addiction. Many families and individuals in Jersey City are actively seeking a reliable and nearby drug and alcohol detox center to provide the support and care they need. Breaking free from addiction can be tough, and INNOVO understands that. That's why we're here – to help those in need detox in a safe and supportive environment.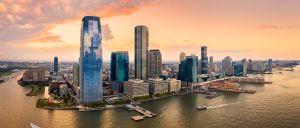 Seeking Drug and Alcohol Detox Near Jersey City, NJ? INNOVO Offers Hope and Healing
Located a short drive from Jersey City is the Innovo Detox Treatment Center, a place of hope and transformation. Innovo Detox stands as a beacon of light in the journey of recovery, offering a sanctuary where individuals can reclaim their lives from the grip of addiction. We believe that addiction is a chronic illness, and detox is the first step in the recovery process. That's where we come in.
Treatment Options at Innovo Detox for Drug and Alcohol Addiction:
At Innovo Detox, lives are transformed through compassionate care and personalized support. The experienced team at Innovo Detox is dedicated to addressing the unique needs of each individual on their path to recovery. Here are some of the treatment options available at Innovo Detox:
Drug and Alcohol Detox Near Jersey City, NJ
If you or someone you care about is seeking drug and alcohol detox in the Jersey City area,  Innovo Detox is ready to offer a helping hand. With a commitment to compassionate care, we can help you take the first step toward a transformative journey to a full recovery. Detox is the first and most crucial step to take, and our staff awaits with open arms. We are prepared to help you or your loved one get through the transformational process of physical withdrawal. Our staff takes great care to ensure every patient's utmost physical comfort during treatment and prepares the way for the next step on the path to recovery.
Come find the light at the end of the tunnel with Innovo Detox. Contact us today and take the first step toward healing and recovery. Together, we can pave the way to a brighter future for you or your loved one.